Macro Stream SD expands the number of LCD macro keys on your DiGiCo SD Console
Alert! (November 7th 2019): it seems that Elgato silently made a new revision of the original Stream Deck which might have changes to the communication protocol and therefore does not work with the Macro Stream SD software. The original model number that is compatible with my software is 20GAA9901 (Stream Deck rev 1) and the new incompatible stream deck has model number 20GAA9902 (Stream Deck rev 2). Please check on the back of the unit for your model number. All Stream Deck XL are still compatible. We are looking into getting this new revison compatible ASAP. Sorry for the inconvenience. Update (November 21st 2019): Macro Stream SD v1.11 adds support for model number 20GAA9902 and is under testing and will soon be released.
New version 1.1 provides a faster UI performance, 2 banks of macros, supports Raspberry Pi 4b and also supports Stream Deck XL for even more macros!
The Frostbox Macro Stream SD unleashes the power of the DiGiCo SD mixing console macro system by providing up to 31 LCD screen buttons in 2 banks tightly integrated with your mixing console. Easy installation and network configuration right on the device ensures you're up and flying in no time and the portability ensures you can bring it to any gig and make it fit in your mixing workspace. It takes under five minutes to connect & configure it up to a new console and it receives all the macros automatically when you boot up your DiGiCo or loads a new SD session file.
Starts below 300$ in total!
It acts as a natural expansion of the user interface unlocking the vast DSP resources of the SD mixer range giving you quick access to any of the many hundreds of function in the console macro editor. Connected to the console using a normal Cat5 connection you can place it anywhere on your production set to give access to console macros to fellow engineers. You can also switch between controlling different DiGiCos on your IP network right on the device.
Get yours now for SD5, SD7, SD8, SD9, SD10, SD11 and SD12 at an unbeatable price! Read below.
Getting the hardware
Raspberry Pi 4 Model B single board computer. 1GB ram version is plentiful for our
application. Raspberry Pi 3 Model B+ is also supported but is a tiny bit behind in
performance for our application.
Micro SD card min. 8GB (Type A1 and UHS1/UHS3 recommend for best performance)
A Micro SD card reader (or a SD card reader and a microSD to SD adapter)

 

Raspberry Pi power supply
Elgato Stream Deck or Elgato Stream Deck XL
Normal Cat5 network cable.
Any Raspberry Pi Case for example the FLIRC cases (not needed but very nice to keep it safe)
This hardware can be bought locally at a well assorted computer electronics store or online.
Here are som Amazon Associates links to the hardware. Using these links I get a small cut but it's the same cost to you. These kits are slightly different in hardware because of availability differences between the locations of the Amazon stores.
Amazon.com:
FLIRC case , micro SD and reader , Raspberry Pi 4b and PSU , 1ft ethernet cable , Elgato Stream Deck 15 keys
Amazon.co.uk:
Elgato Stream Deck XL 32 keys, Elgato Stream Deck 15 keys, 1ft ethernet cable , Raspberry Pi 4b 4GB and PSU and SD card , SD card reader
Amazon.de:
Elgato Stream Deck XL 32 keys, Elgato Stream Deck 15 keys, 1ft ethernet cable , Raspberry Pi 4b 1GB , case and PSU , SD card , SD card reader
During initial installation you will need a windows/mac/linux computer for flashing the software onto the SD card.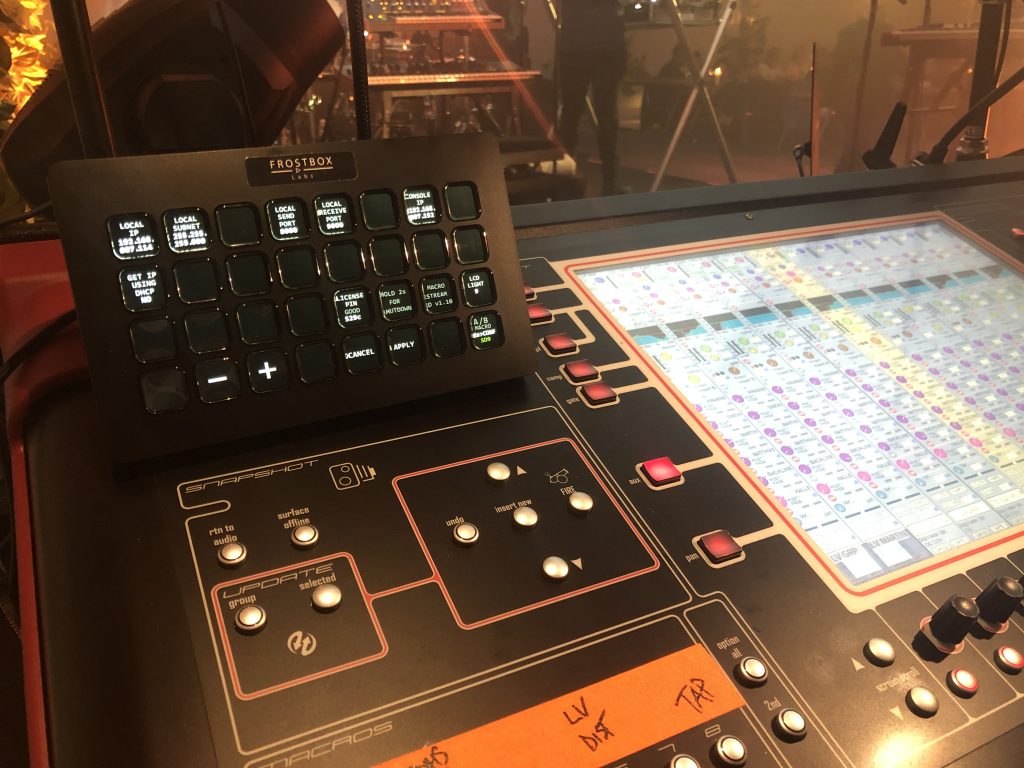 Getting the software
When you have received all the above hardware you have to read the Stream Deck serial number on the backside label*. Now buy the Macro Stream SD software below by providing your Stream Deck serial number and press the "Buy now" button. You will then get a email within  a few minutes after you have completed the PayPal checkout with a download link for the software,  a pdf installation & user guide and a license pin. The license pin is 4 hex characters which you will need to tap into the LICENSE PIN key the first time you boot up the Macro Stream SD. Software price is 49.99$ (+ your local VAT percentage for digital goods if you are located in EU).
If you like the concept of the Stream Deck LCD keys controlling some IP based equipment with a Rasperry Pi like the Macro Stream SD system we can do custom software for your special application. Please send us an email.
* If it is hard to read the serial number on your Stream Deck you can connect it to your computer, download the official Stream Deck software and then go to the Preferences and find your connected Stream Deck using the drop down menu in the middle of the screen. Now it will show your Stream Decks serial number.